Kirlian Camera for Photoshop artists
Exr-IO 2.00 is a kind of digital Kirlian camera for imaginative artists. You can see things that were hidden from you all the time:
Cryptomatte passes which generate automatically masks for your objects, billions of uncompressed colors. Each and every shade, reflection and shadow of your 3D work can be now accessed and retouched.
Exr-IO 2 lets you edit images in Photoshop like in full-featured video-compositing software! 
Cryptomatte support
The new version of the popular Exr-IO file format plug-in includes support for cryptomatte decoding.
Seeing exact and comprehensive Cryptomatte channels in Photoshop is like looking at the dark side of the moon: suddenly there is serious visual assistance for any kind of 3d artwork retouch. Every object, layer, material or user defined object selection in 3D becomes a visible, editable Photoshop layer mask!
Salami-slice image compositing
For two years we have gathered and studied the requests and wishes from creative artists and studios around the world.
They expressed urgent needs for fluent, fast, precise and feature-rich production turnarounds when it comes to editing of professional image material.
Exr-IO has become a fast, robust, reliable and a default EXR Photoshop plugin in art, game, vfx and industrial design studios.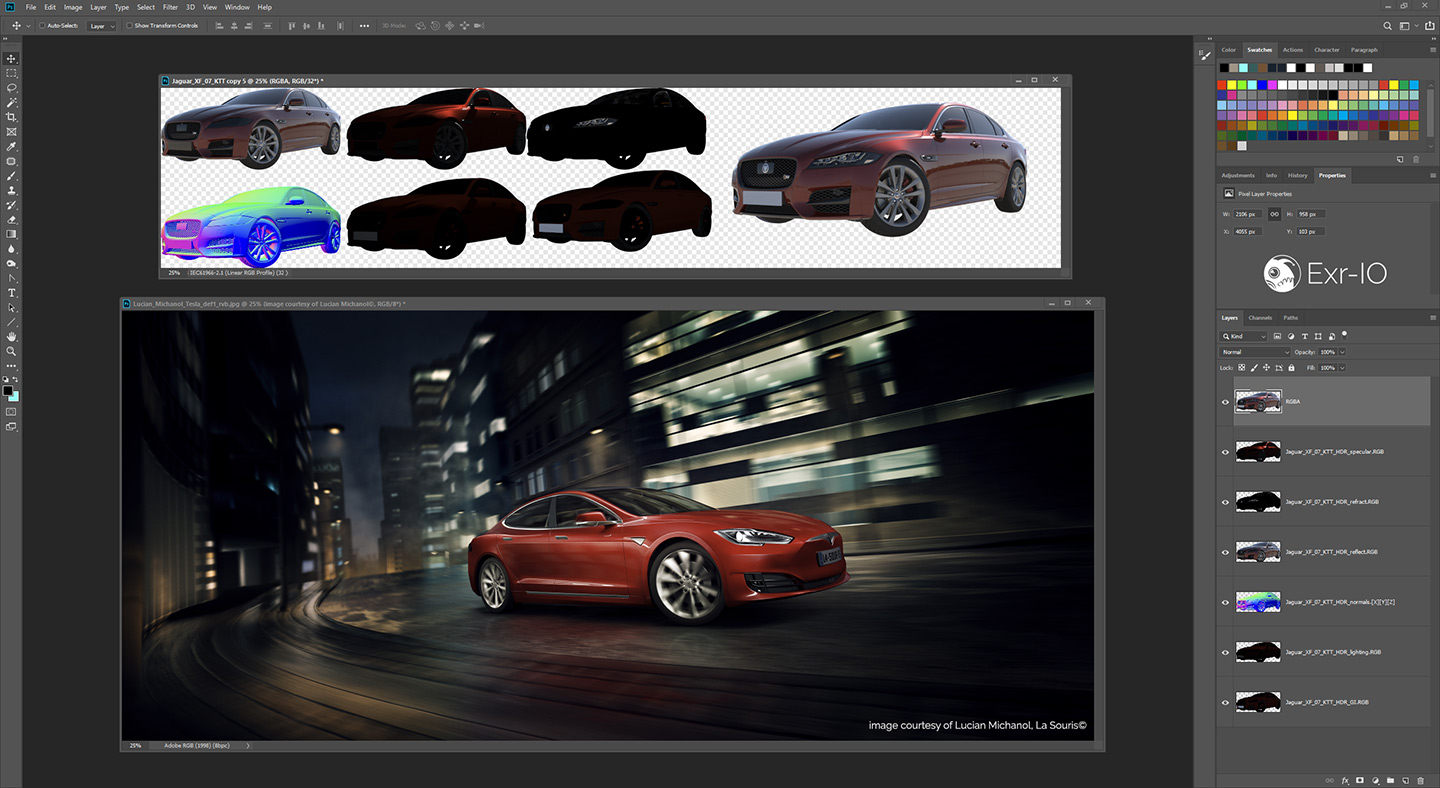 Mipmap and Ripmap support
Game designers, the vagabonds of many digital art developments, rapidly implement the EXR format in their production pipelines. Exr-IO 2 now offers customizable reading and writing of mipmaps and ripmaps.
They can be easily modified and prepared for any kind of texture creation.
Manage gigantic image data
The new version of the popular Exr-IO file format plug-in incorporates additional features like reduced memory consumption and numerous quality, compatibility and stability improvements with better error handling.
Artists can now open huge data sets with a large number of layers with significantly lower memory requirements than before while still keeping read performance very high.
Your 3D Software can give you more!
Don't degrade your complex or expensive 3D software to a simple pinhole camera!
It does not only paint colorful images – the 3D renderer works hard in background to calculate lights, reflections, depth and masks, hidden from your view.
Use the powerful output channels from your favourite 3D App for advanced, professional compositing in Photoshop!