Exr-IO
Exr-IO is a free, extensive and precise OpenEXR image format reader and writer for Adobe Photoshop. It imports all image channels from OpenEXR file into separate Photoshop layers. Unlike existing solutions, Exr-IO supports all latest OpenEXR standards and specifications.
A new, short insight into Vray 5 and Exr-IO Workflow for designing your artworks using Cryptomattes. This article was developed and published by SOA Academy.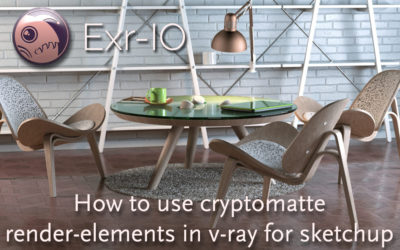 This tutorial uses an example scene to show you exactly how to use EXR-IO and Cryptomatte in V-Ray Next for SketchUp, as well as how to color-correct non-metal materials — the right way. ABOUT THE AUTHOR Han Shilin Han is a long-time user of V-Ray for SketchUp and a...
Exr Auto-Pass Saver for Blender Link all render passes in Blender to a new EXR-mulitlayer save node. Exr Auto Save Pass Saver Python Script which automatically creates an Exr MultiLayer Node, copy all Pass Nodes to it and links all Render Layer nodes between them....
What is Exr-IO?
Exr-IO is an Adobe Photoshop plugin that loads and saves OpenEXR images. It is a robust and exact solution for dealing with multi-layer EXR pictures: Exr-IO loads all image channels from OpenEXR files into separate Photoshop layers, while preserving exact values, transparencies and dimensions. Features like Cryptomatte and mapmaps and ripmas are supported.
Exr-IO supports all latest OpenEXR standards and specifications.
Advantages of Exr-IO compositing
For years Photoshop artists have envied those doing professional compositing in Fusion and Nuke. The Photoshop handicap of not being able to extract the individual layers, high quality details and bit depths from EXR files was an everlasting fog of war in the workflow.
With Exr-IO artists now have limitless access to all image channels coming from the 3D department or special camera formats.
Exr-IO Features
Exr-IO supports all OpenEXR features and provides workflow optimizations for Photoshop:
• Open and save all channels of the OpenEXR file
• Support for Photoshop layer features like blending and opacity
• Cryptomatte support
• Reading and writing of mipmaps and ripmaps
• Deep data sample import
• Accurate support for chromaticities and color formats
• Support for OpenEXR display window specification
• Extensive load and save options
• Adobe Photoshop 32 and 64 bit versions support (Windows)
• Free of charge
Work in Photoshop as others do in professional compositing software